Grabenwerkstatt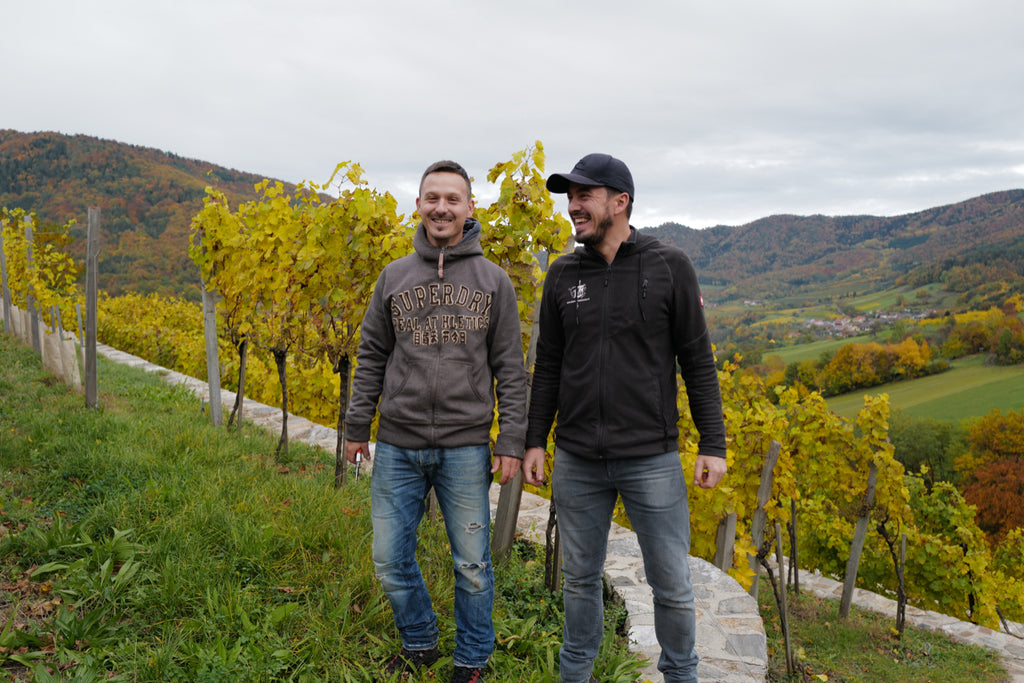 Grabenwerkstatt's owners Franz Hofbauer and Michael Linke both have a strong winemaking background.
Franz is a self-described child of the Wachau, one that grew up without family vineyards, but with a deeply rooted understanding and love for the vineyards and history of his region. Michael on the other hand came to the Wachau from his native Germany and, as one might expect, he can't quite shake his love for Riesling. Both worked at various producers: Michael in New Zealand, Germany, and finally at Domaine Wachau in Austria. Franz at Hirtzberger, Högl and others.
Both have found their calling in the Spitzer Graben, where they joined forces in 2012 to start their own winery.
They had a very clear vision from the start: the idea was to make the kind of wines generations of winemakers had made before industrialization allowed for manipulated wines. From vineyard to cellar, meaning from plant-protection to vineyard management, harvest, fermentation and bottling, nothing was to be introduced to the process that hadn't been given to them by nature.
But first, they needed vineyards and money was scarce. With Wachau vineyard prices sky-high, most of the better-known sites were way out of reach.
Luckily, these sites were also not what they were after.
Instead, they searched and found their sites in the most northern corner of the most Northern Valley of the Wachau, known as the Spitzer Graben. This valley runs perpendicular to the Wachau valley from Spitz towards Viessling and is known for its cooler microclimate, steeply terraced vineyards, and the kind of austere primal rock they wanted to bring to bottle.
Here some of the most extreme vineyards (in terms of temps but also steepness) had been abandoned by winemakers who no longer wanted to work these harsh conditions. Others had left them when global warming was not yet an issue and these sites were considered too cool to make single vineyard wines.
Brandstatt, Bruck, Schön and Kalkofen, and the most Northen vineyard, the Trenning, are now the "Lagen" that Grabenwerkstatt was able to secure. 70-year-old vines in the case of Brandstatt.
But there is another, quite important, maybe the most important element: it's their aversion for botrytis.
Saying no to botrytis means a lot of extra work that has to start early and in the vineyard. Once you harvest with botrytis, it's usually too late. This meticulous work is not something others do, as much as they might claim so. And it shows: the recipe of clean fruit, old vines, native fermentation, and austere soils leads to wines that transport soil and minerality with incredible precision.
All wines at Grabenwerkstatt ferment spontaneously on their native yeasts in steel tanks where they rest on their fine lees until bottling. No filtration or fining allowed. Preserving these wines means protecting them from oxidation. Franz and Michael, therefore, add some SO2 before bottling, happily, as they noted.
Grabenwerstatt wines show a note of chalky minerality, focus, and seriousness that runs like a red line across all of their bottlings and separates them from the typical Wachau wines. Nothing here is superficial, fresh, and fruity and easy to understand.
These wines challenge from the start and demand a consumer with a rather developed palate. But those who have an appreciation for such bottlings will immediately pick up on the immense quality and cellar-worthiness of these bottlings. Uncompromising from start to finish, these are truly hand-crafted, artisanal wines that remind us what high-end craftmanship really means.